What are Inhaler Medications?
Inhaler medications are a specific type of prescribed  drug whose route of administration is through the lungs, as opposed to oral (pill), intravenous, intramuscular, or subcutaneous routes. The advantages of inhaler medications may include:
not having to pass through the stomach;

faster absorption into the bloodstream;

directly targeting where the medication is needed, and;

easier administration.
Inhaler medications are the preferred option for humans with respiratory conditions such as asthma, Chronic Obstructive Pulmonary Disease (COPD), bronchitis, and emphysema (ginasthma.org, goldcopd.org). With Trudell Animal Health chambers, they can be the preferred option for cat asthma, dog bronchitis, horse asthma, and other animals and respiratory conditions as well. 
There are 4 types of delivery device formats for inhaler medications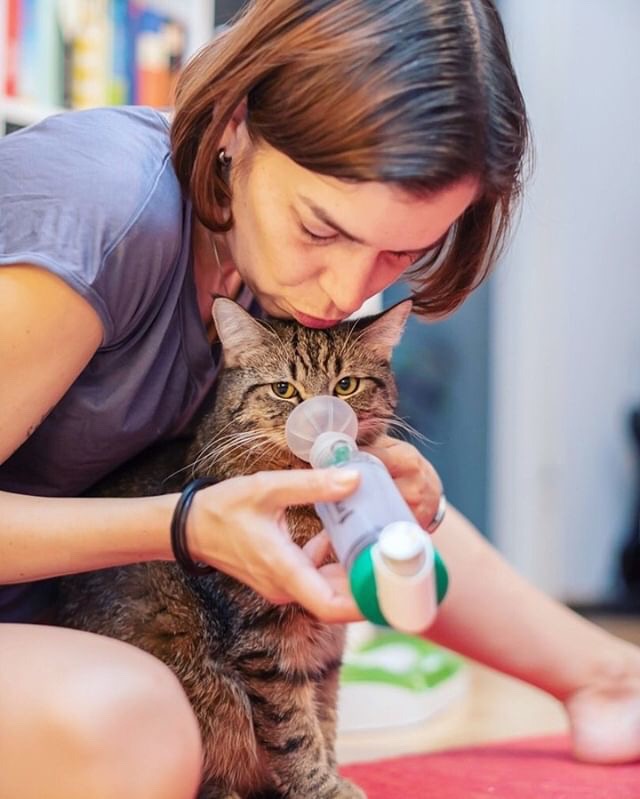 Types of Inhaler Medication
There are two main types of inhaler medication that are prescribed if a cat, dog, or horse has been diagnosed with asthma, bronchitis or COPD: corticosteroids and/or bronchodilators. These are the same medications used to treat respiratory disease in humans, but require different doses and administration in animals. ALWAYS consult and follow the instructions of your veterinarian before giving your animal any medication! Only use inhalers as prescribed by your veterinarian.

Short Acting Bronchodilators
Bronchodilators are medications used to expand the airways. They are commonly referred to as rescue medications because they are usually administered in the event of an asthma attack.
Opens airways by relaxing muscle constriction
Effects usually only last 4-6 hours
Does not treat underlying inflammation
NOTE: The effectiveness of bronchodilators in dogs is minimal and has not fully been studied
Drug Names
Albuterol
Salbutamol
Ventolin
ProAir
Proventil

Save a Visit to the Vet!
Inhaled short acting bronchodilators could help your pet regain control at home giving you more time to talk to your vet.

FOR LONG-TERM MANAGEMENT
Inhaled Corticosteroids
Corticosteroid inhalers (or glucocorticoids) are anti-inflammatory medications used to treat and manage the underlying causes of asthma and bronchitis symptoms.
Reduces airway inflammation and mucus production
Used for ongoing management of condition even in the absence of symptoms
Drug Names
Fluticasone
Flovent†
Flixotide†
Alvesco†

FOR LONG-TERM MANAGEMENT
Often a combination of a corticosteroid inhaler and a special bronchodilator that acts over a longer period of time.
Reduces inflammation and helps prevent airway constriction
Used for disease management, not rescue
Drug Names
Advair†
Seretide†
Sirdupla†
Sereflow†
Fluticasone Cipla†
Symbicort†
Dulera†
---
Where to Buy Inhaler Medications for Cats, Dogs, and Horses
Only use inhalers as prescribed by your veterinarian.
Discount Code (Save $10)
Canadian Pharmacy World
vet10
** The links to online pharmacies are being provided as a convenience and for informational purposes only; they do not constitute an endorsement or support of the drug product or content of those sites. Drug prices are monthly costs for 120ug(125ug) Flovent† HFA. Get 10.00 off for any purchase of inhaler product, onetime use only at canadianpharmacyworld.com (see their site for full details)
ALWAYS consult and follow the instructions of your veterinarian before giving your animal any medication! Only use inhalers as prescribed by your veterinarian.
Inhaled medications can be purchased from your veterinarian, a regular human pharmacy, or from online veterinary pharmacies with a prescription from your licensed veterinarian or health provider. 
Did You Know?
Some medications can have different names in different countries. For example, GSK's branded fluticasone proprionate MDI inhaler goes by the trade name Flovent† in Canada and USA, and Flixotide† in most of the rest of the world.
These are the same medications, owned by the same company, marketed with different names.
Did You Know?
The listed strength of these medications can also change depending on how the local regulatory authorities chose to measure the amount of medication delivered. For example, GSK offers Flovent† HFA in three labelled strengths in Canada (50 mcg, 125 mcg, and 250 mcg) that are equivalent to the three labelled strengths in USA (44 mcg, 110 mcg, and 220 mcg), respectively. The difference is that in Canada, the strength was measured at the valve of the inhaler whereas in USA the strength was measured at the mouthpiece (actuator).
The same device measured in two different ways creates a different, but equivalent set of strengths.