Certificated Clinical Animal Behaviorist Training
We have teamed up with two leading cat behavior experts from International Cat Care to develop a simple and effective 5-step guide to help you and your cat be successful with inhalers.
Learn how to train any cat to use the AeroKat* Chamber with video guidance from a Certificated Clinical Animal Behaviorist and trainer; and Head of Cat Advocacy and author of the best-selling book "The Trainable Cat". These experts in the field of feline behavior and training help take the fear and distress out of using a cat inhaler.
All cats can enjoy training and be successful when their cat-specific and individual needs are understood and met. Attending to cats' communication and preferences, providing motivating rewards and ensuring cats are in control is, all part of a positive training and bonding experience, and is key to achieving great AeroKat* training outcomes together!
Behaviorist Bios  Importance of Inhaler Training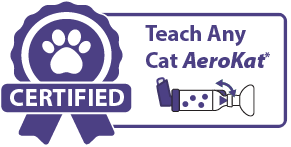 Ultimate 5-Step AeroKat* Cat Inhaler Training Program
Going beyond CONDITION, LOVE, REWARD to help any cat can learn.
Your Cat will
♥

Using the AeroKat* Chamber

Pet parents, now you can feel confident that even your cat can learn to use a cat asthma inhaler.

Teach your cat to be comfortable with the mask with this step by step tutorial from a Certificated Clinical Animal Behaviorist and trainer.

Learn how to teach, support and motivate your cat, so you can successfully switch to inhalers to help improve your cat's quality of life by avoiding the side effects of systemic steroids (pills) that may harm cats' health, and negatively affect quality of life and behavior.
A little training for a lifetime of safer therapy!
Reward-based training is efficient, fun and bonding for you and your cat. Investment in the AeroKat* training process is an investment in your relationship and your cat's future health.
With AeroKat* training also comes empowerment to treat coughing attacks at home. In emergencies, you will be able to give your cat a rescue inhaler to help stop the attack and potentially prevent a visit to your vet. 
Learn more about International Cat Care's behavior  experts who developed the cat inhaler training.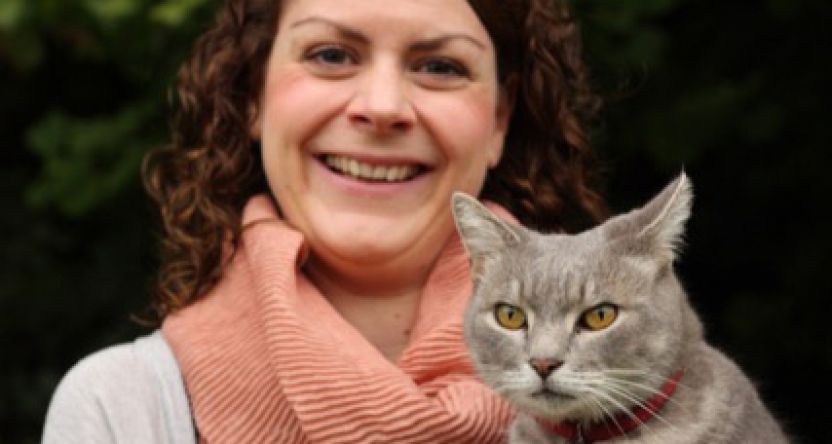 Dr. Sarah Ellis
Head of Cat Advocacy at International Cat Care Sarah is the Feline Behavior Specialist with the International Cat Care.
Sarah has a keen interest in the behaviour and welfare of the domestic cat. After completing a degree in Zoology and Psychology (University of Bristol, 2001) and a Post-Graduate Diploma in Companion Animal Behaviour Counselling (University of Southampton, 2006), Sarah specialised in cats and was awarded a PhD for investigating ways to improve the welfare of cats housed in rehoming centres.
Sarah spent several years at the University of Lincoln as a Research Scientist working on numerous projects including investigating novel ways to improve feline welfare, and furthering our understanding of feline behaviour and the cat-human relationship. In 2015, Sarah decided to concentrate on the application of research and joined International Cat Care as their Feline Behaviour Specialist to help develop their work in the areas of feline behaviour and welfare. In 2019, Sarah moved to the role of Head of Cat Advocacy within International Cat Care.
She also is a Visiting Fellow at the University of Lincoln where she has taught the MSc Clinical Animal Behaviour programme. Sarah has had numerous radio and TV appearances, covering many aspects of feline behaviour and welfare. She has published a NY Times Best-Selling book with John Bradshaw entitled The Trainable Cat which details how training can be used to improve cats' well-being.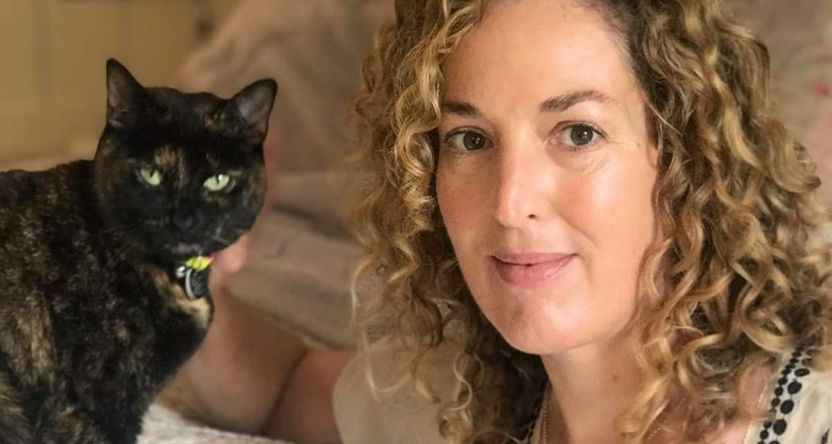 Linda Ryan, BSc (Hons) VTS (Behaviour, Oncology) DipAVN KPA-CTP RVN CCAB
Cat Advocacy Programme Manager (International Cat Care) and Owner, Inspiring Pet Teaching
Linda is an ASAB-accredited Certificated Clinical Animal Behaviourist and a Certified Trainer and faculty instructor with the world-renowned Karen Pryor Academy.
Linda is a Veterinary Technician Specialist in Behaviour, and in Oncology, and an Association for the Study of Animal Behaviour (ASAB) accredited Certitficated Clinical Animal Behaviourist (for cats and dogs). She is a passionate veterinary nurse since 2000 and a welfare-focused animal trainer and behaviourist. Linda spent many years working in general practice, as well as in university referral clinics, where she specialised in internal medicine, oncology and behaviour-centred nursing, learning from world-leading veterinary specialists. Linda currently runs her UK-based business Inspiring Pet Teaching, dividing her work time between seeing clinical behaviour cases, working alongside pets' vets; and providing continuing education for veterinary and training/behaviour professionals.
Linda also works as part of the Advocacy team for International Cat Care, working across disciplines, and being involved in cat behaviour, training, nursing, welfare and learning projects.