Breathe Better.
Live Better.
Better for Pets.
Easier for Pet Parents.
Our animal spacer chambers help deliver inhaled medication directly to your pets' lungs, exactly where it is needed for effective and safe respiratory disease management. Our easy-to-use chambers help owners and pets have happy, playful lives together, while avoiding the side effects that oral steroids can cause.
What Are Trudell Animal Health Chambers?
Our chambers enable your pet to get medication from a metered dose inhaler into their lungs. Just like humans with asthma, pets can now use inhalers, or puffers, to manage respiratory disease at the source, unlike oral pill steroids which go throughout the body. Special rescue inhalers can also be used to open your pets' airways during an asthma attack.
Our chambers make it easy to use inhalers with your pet.
Learn More:
Asthma and Bronchitis are chronic conditions that requires a lifetime of management.
Transition to Inhaled Steroids for Better Quality of Life
Reduce Side Effects of Systemic Steroids by Delivering Medication Where it's Needed... in the Lungs.

Safer for long-term disease control - don't cause the same health and behavioral changes
Easier for pet parents to administer
25× lower concentrations of steroid when targeting the airways directly
Helps keep pets able and willing to play with their family
Learn More About CatsLearn More About DogsLearn More About Horses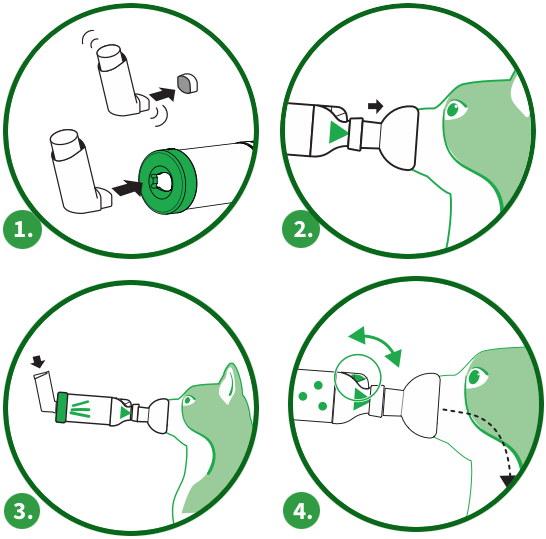 Easy and Well-Accepted
Using the Trudell Animal Health chambers with your pet is surprisingly easy. Simply follow the Condition, Love, Reward approach to get started. Many pet owners have shared that using a chamber can be easier than giving a pill, because they can include bonding moments.
Our chambers even helps you see if your pet is inhaling their medication properly.
Learn More:
Why We Care
Our pets provide us with unconditional love and support throughout our lives. Every relationship between a pet parent and their pets should be unique and joyful. So, we believe in keeping that relationship strong. Made in Canada, with Canadian and American parts, Trudell Animal Health aerosol chambers are designed to help your pet breathe and live better. Since 1998, we've developed devices to help your pet achieve the best health possible, ensuring that they have happier, more playful lives.
We breathe life into products for healthier pets and the well-being of families.
We know pet parents want the best for their pets. So do we. Learn more, download resources to help you and more.
STORIES
Hear from pet parents like you!
---
Share your story!
We love hearing how our products make a difference. Share your story with us through the form on the "Share Your Story" page, or post to Instagram, Facebook or Twitter with one of the hashtags below.
Your story could help another pet breathe better.
Submit Story Instagram Facebook Twitter
#AeroKat   #AeroDog   #AeroHippus
TRUDELL ANIMAL HEALTH'S
BREATHING TOGETHER PROGRAM
Sign-up, Feed a Shelter Pet
All pets deserve to be cared for. Our Breathing Together Program keeps you up to date with the best information for your pet's lung health through an email sent only when it's important. With every new sign-up, we'll help care for pets who are still waiting for their forever homes by donating a meal to a shelter pet.
Questions or Comments? Get in Touch.
We would love to hear from you. If you have questions or comments about one of our chambers, please reach out to us today.